by Janet Jernigan, Managing Broker, Platinum Realty Group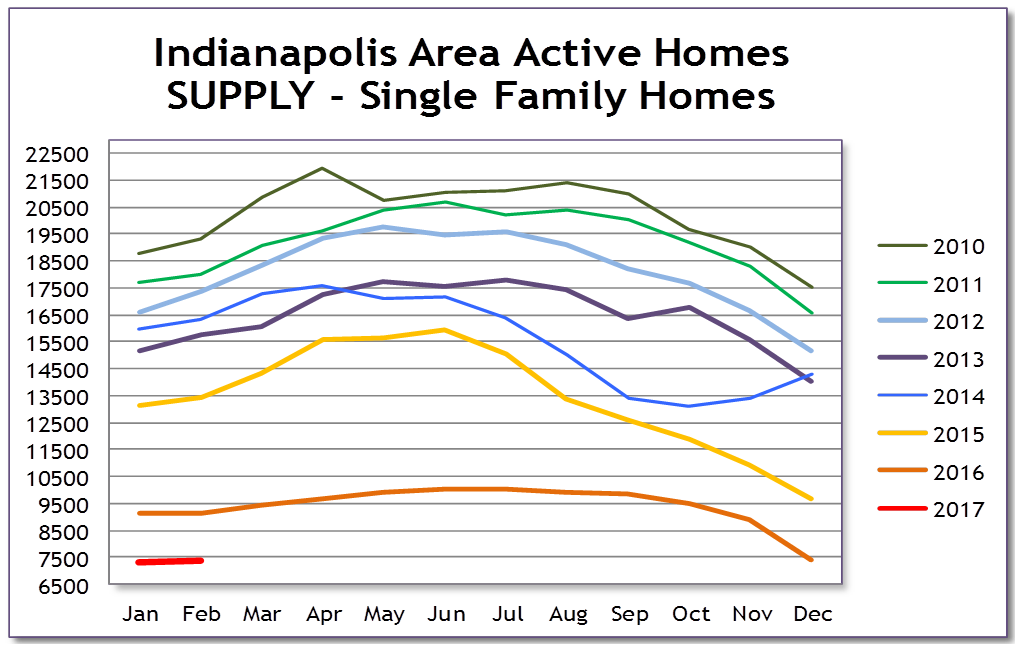 If you have watched the news or talked to anyone that is looking for a home to buy, you have probably heard that there are very few homes for sale on the market today. But what does this really mean?
When I started selling real estate in the Indianapolis area in 1990, we would say that there were on average 10,000 single family homes for sale in our market. We had a balanced market with "slow & steady" appreciation which essentially mirrored the cost of living. When the market went crazy in the mid 2000's & then the bubble burst, we had nearly 28,000 homes for sale in our market. This was definitely an oversupply! Prices declined as the number of sales also fell.
As you can see from the chart above, every year since that time, inventory has declined, which has been an important factor in returning our real estate market to a more "normal" balanced and once again appreciating market! But look what has happened to our inventory levels in the last 20 months. We have seen dramatic decreases in our inventory levels as the number of home sales have continued to increase.
Most experts feel that a balanced Indianapolis real estate market would need approximately 12,500 single family homes to support the Buyer demand. Look what our current inventory of homes on the market is today. . . . . less that 7,500 homes for sale!

So, if you have been considering selling your home, NOW is the time. Sales Prices are up & Days on the Market are down! List your home today, before the other 5,000 potential home sellers also decide to put their home on the market!
Call your Platinum Realty Group expert to find out what you need to do to prepare your home to get you top dollar. Or, if you are a Buyer, our Brokers will help you navigate this low inventory market to get you the home of your dreams!